How to make a jewelry case
If you like a bit of a challenge and enoy the satisfaction of making something beautiful, here is a project for you.
This little rope basket can be used to store necklaces, for instance. It makes a very nice gift for Mothers Day, or for any occasion where you want a handmade gift that makes a great impression.
Use twine that is rather thick, but not too rigid. Sisal and jute both work well.
Here is a video where I show how to make this basket.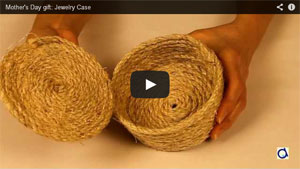 To make this jewelry case even prettier, add a fabric liner. Use a remnant of fabric with a small design that goes well with the size of the basket.
If you make this project, send me a picture!