Here are two ways to represent a butterfly using paper "basket type" coffee filters.
The first variant uses one filter per butterfly. Alternatively, you can use two coffee filters to make a butterfly with four wings.
Whichever variant you choose, use your creativity to paint the butterfly's wings. Whether you make them realistic or use your fantasy, these butterflies are pretty decorations that can be displayed individually or all together on a mural.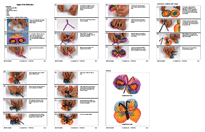 PDF file (7 pages)
The downloadable document contains the list of materials, illustrated instructions, and a sample picture.
This is a free document.
You must log in to download this document.
Not a member? Join Today!