Colour Matching Game
A fun and educational game for preschool or at home.
Children learn to reproduce a pattern of colours from a template.
Several templates are included in the document, and you can also make your own templates to match the pompoms or other small objects that you will be using for the game.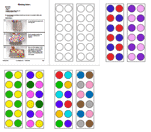 PDF file (5 pages)
The downloadable document contains the list of materials, illustrated instructions, coloured templates as well as a blank template that you can colour yourself.
PDF download: US$ 1.50
(Basic Member Price: 1 credit)
(Free for Pro members)
Log in Not a member? Join Today!