Thanks to the technique of printing with a potato stamp, this card is easy to make, even for those who struggle to paint with a brush.
This card has a three-dimensional effect because the little bell flowers are made from Magic Nuudles®.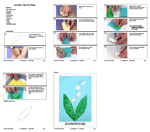 PDF file (5 pages)
The downloadable document contains the list of materials, illustrated instructions and the pattern for the leaf.
This is a free document.
You must log in to download this document.
Not a member? Join Today!