Magic Nuudle Snowflake
How much do you love projects that use non-toxic materials? If you have little ones, very much! This project takes on a snowflake in a 2-D or 3-D variation by using Magic Nuudles® as one of your materials.
They are non-toxic, so if a little one decided licking it was a great idea, it wouldn't hurt them. We would rather they not, though. With few necessary materials for this, you will be having fun in no time creating unique snowflakes. These make great decorations and would be a great craft for a large group.
Magic noodles are also sold under the brand names Super Puffs® or PlayMais®.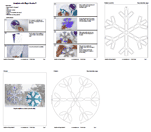 PDF file
The downloadable document contains illustrated instructions and the pattern.
This is a free document.
You must log in to download this document.
Not a member? Join Today!
Supplies available on Amazon
As an Amazon Associate I earn from qualifying purchases made through these links.