Shark Photo Booth
Kids are fascinated by the Baby Shark song. Join the game and make this big cardboard shark. Then, take pictures of the kids with their face in the shark's mouth.
This project can be used as a photo booth at a child's birthday party, or as a game where children toss balls into the mouth of the shark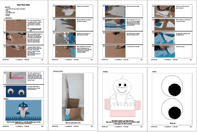 PDF file (8 pages)
The downloadable document contains the illustrated instructions and a template for the eyes.
This is a free document.
You must log in to download this document.
Not a member? Join Today!