How to make a giant robot
Kids find robots fascinating. Creating a robot is a bit like creating your own toy; it lets children dream and use their imagination.
Creating a giant robot is best done as a team activity.
Here is what you need to make a giant robot :
cardboard boxes
cardboard tubes
paint
lots of recycled materials for decorating (bottle caps, corks, etc)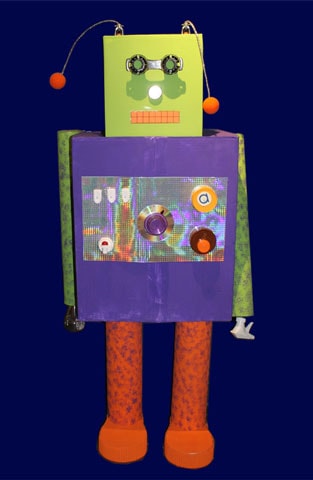 It's better to work as a team to create a giant robot because one child alone may be overwhelmed by the size of this project.
Teamwork also has the advantage of teaching many things :
sharing ideas and knowledge
obeying rules
respecting the others members of the team
verbalizing your ideas clearly
listening to the other team members
sharing the work fairly.
In addition, working as a team stimulates everyone's creativity.
The giant robot that you see here was created as part of a special project for Canada's Museum of Science and Technology in Ottawa.
Encourage the kids to come up with their own interpretation of what a robot should look like. There is no wrong answer : all robots built by the children will be beautiful!