Valentine Cards
Valentine's Day is an occasion to tell the people who play an important role in your life that you appreciate them.
A nice way to say that is through a card that you made yourself, because in that case, in addition to the kind words written on it, the card itself will be a gift for the receiver.
Kids as well will get a lot more fun out of printing Valentine cards with their own drawings, rather than using store-bought cards.
Styrofoam engraving is a technique that allows you to print several cards from the same design. In resembles linoleum block printing but instead of sharp cutters, you simply use the tip of a pencil to engrave your drawing in the styrofoam.
What I like about this technique is that, even if you print many cards from the same design, they will all be different  because the paint never flows the same way twice. This really is an easy technique that gives great results. Try it!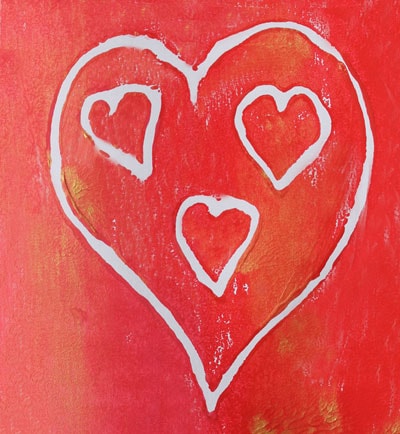 To see how I made this card, watch the video Make a card with hearts.