Musical Impressions
A lesson on rhythm notation comes alive with big notes printed using a wine cork.
The video also shows how to print whole and half notes.
To decorate the music class with a musical border, put the sheets printed by the students end to end!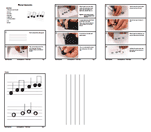 PDF file (5 pages)
The downloadable document contains the list of materials, illustrated instructions, and a staff at the right size for a wine cork.
This is a free document.
You must log in to download this document.
Not a member? Join Today!