Goldilocks and the Three Bears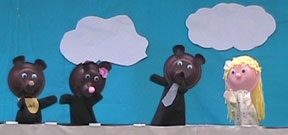 This is one of the most popular fairy tales, maybe because it explains symbolically that the best choices in life are often situated between two extremes. Not too big, not too small… just the right size.

PDF file (4 + 3 pages)
There are two documents that can be downloaded and printed separately:
Director's copy: includes stage directions
Puppeteer's copy: lines only
You must have a Pro membership to download this document.
Please log in
Not a member? Join Today!
Roles