Chinese New Year 2013
Do you know the origin of the Chinese New Year?
The Chinese Zodiac precedes Western horoscope by several thousands of years.
Legend has it that Buddha felt his end coming so he invited all the animals of the Earth to visit him. Only twelve animals presented themselves to Buddha. In recognition of their visit, Buddha honored each animal by dedicating a year of the Chinese Zodiac to them. The order of succession of the animals in the Chinese calendar was determined by their order of arrival to Buddha. Thus the Chinese calendar has a cycle of 12 years and always follow the signs in the same order: rat, ox, tiger, rabbit, dragon, snake, horse, goat, monkey, rooster, dog and pig.
The Chinese New Year never falls on the same date one year to another because the zodiac signs depend on lunar cycles. Usually a lunar year has 12 moons except every 12 years where there are 13 moons. The Chinese New Year is the day of the new moon between January 21 and February 20 of each year.
Each year in the Chinese calendar is represented by an animal and the animal has a great influence on the destiny and personality of people born in that year. In addition, each sign depends on additional information like the element (wood, fire, earth, metal and water) and the dominant Yin or Yang.
InAsia, zodiac signs play a very important role in different areas. It is not uncommon that people consult their horoscope before taking important decisions in their lives.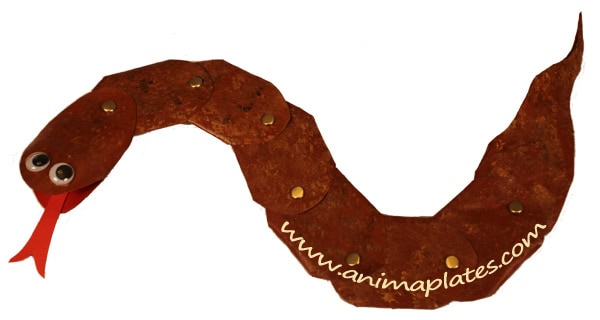 February 10, 2013 is the start of the Year of the Snake.  In Chinese astrology, the Snake is symbolically associated with wisdom and calm. People born under the sign of the Snake are called intelligent, intuitive, reserved, independent and sometimes lazy.
The Year of the Snake should be characterized by relative calm and collective wisdom.
To celebrate the start of the Year of the Snake, I have created an articulated snake made almost entirely of recycled materials. This is a beautiful visual arts project that can also be used to illustrate a lesson about snakes.
Click here to get the free printable document.