International Puppet Festival in Almonte
The International Puppet Festival is celebrating its 10 year anniversary this year.  Every year, this event takes place on the second weekend of August in the town of Almonte, a 50 km drive from Ottawa.  During the two day festival, you can watch ten professional puppet troupes who perform in tented theatres or in the old town house along the banks of the Mississipi River.
During the festival, the streets of Almonte are quite busy with all kinds of activities from children showing their own puppets, to a giant on stilts, to a balloon animal maker.
It's a great outing to have fun as a family.  When you see strollers  parked on the side of a tent, you know that a show is in progress!
A commemorative coin worth two dollars was created especially to mark the tenth anniversary of the puppet festival. A 2005 penny is encased in the middle of the coin. This coin was produced in limited quantities; there are only 1,000 copies.
Let me introduce you to some of the groups present at the 10th Puppet Festival!
Leslie and Lolly Make Stuff Up

Leslie Carrara-Rudolph (USA)
Leslie Carrara-Rudolph appeared in different children's shows but she is best known for performing as the fairy Abby Cadabby on Sesame Street since 2006.
At the Festival, you can see Leslie Carrara-Rudolph in a special show with her funny sock puppet Lolly Lardpop as well as other puppets, songs and stories!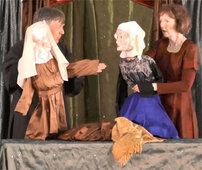 The Light Princess
Rag and Bone Puppet Theatre (ON, Canada)
The Light Princess, you have guessed it, is a fairy tale with a witch!
Through the puppets, this show teaches about bravery, empathy and compassion.
Professor Wick's Incredible Magic Factory

Majinx/Lawrence Larouche (ON, Canada)
 A special show where Professor Wick invites some lucky children to participate on stage.  Professor Wick shows that even a handkerchief can become a very funny and rowdy puppet to the great delight of the children.
Everybody loves Pirates
Frogtown Montain Puppeteers (Maine, USA)
Lucy and Little Chucky discover a treasure map.  It's not easy to find the treasure when  some pirates are always getting in their way.  Luckily, Lucy and Little Chucky get some help from Lobster Boy, Crabby, and the sea monkey.
Some of the adventure takes place on a beautiful 8 foot "papier mâché" pirate ship.
An Arabian Adventure

Tanglewood Marionnettes (Massachusets, USA)
A Persian prince is thrown into a dungeon because of his love for a beautiful princess.  The prince must defeat the wicked Vizier and use his wisdom to escape his prison and save the princess.
What is so special about this show is that the background is part of a giant book in front of which the string puppets move.  What a beautiful way to tell a story!
Squirrel Stole My Underpants
They Gotta Be Secret Agents (Massachusets, USA)
This is the story of a girl and a mischievous squirrel who stole her underpants!  The girl chases the squirrel hoping to recover the stolen underpants and in doing so, she finds herself in strange lands.  This show is geared toward families with very young children.
When Pigs Fly… Into Alien Spaceships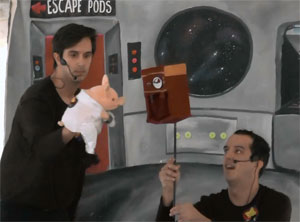 Out of this World Puppetry/Freddie Rivas (ON, Canada)
Did you know that pigs could fly?  Pig Hadfield is a astronaut on a mission full of surprises.  He will meet strange creatures that will become friends and he will learn things about himself too!  If you are ready to embark on this mission, you should join in and watch Pig Hadfield fly!
Once Upon a Time… Two Feet
Little Feet Theatre/Veronica Gonzalez (Italy)
Veronica Gonzalez uses very special puppets… her feet!  With simple accessories, she transforms her feet into expressive characters that perform to the rhythm of the music.  There are no dialogs but the stories come to life through the movement and clever use her feet and hands.  When you watch her perform, you soon forget that those puppets are her two feet!
Veronica Gonzalez travels the world with her two feet and charmed her audiences in Italy, France, Spain, Belgium, Holland, Greece, Japan, Germany, Singapore and Brazil.
The Puppet Tamer

Tim Holland (ON, Canada)
Tim Holland is a multi-talented artist; you can see him juggling or unicycling.  As a ventriloquist, you will see him talk to puppets and the funny exchanges between Tim and the puppets bring laughter to big and small alike.  A fun show not to be missed for sure!