Give a body to your snowman!
By Samantha
What does it take to have the complete attention of a child? A project with as much personality as them, of course. Have you ever thought about why video games and cartoons have the profound effect of stimulating kids for hours? It is not just because they can sit on their bottoms and do nothing without being bored.
Every year, research brings us more information as to why this happens in children. Some of it has to do with the colours and constant movement on the screen, but the important part is that everything that happens a surprise. What happens on that screen is unpredictable in the eyes of a child. It has to have a finesse that other activities do not.
Every parent shares that, "You would never guess what Susie said today!" moment. We simply cannot guess what they are thinking, let alone what they will do in the next few minutes. Anything in their surroundings can change that attitude too. One circumstance is predictable until you throw a pretty balloon into the mix. Just like on TV, that change makes a world of difference.
If you take what we have for our Snowman project with paper plates, you could put forth a game changer in the world of kid stimulation. Tell your kids, it is time to colour and you have a 50/50 shot at them getting away from the tube. Change it up and say you are going to turn paper plates into a snowman, there's going to be a whirlwind of interest. Hands on is always better for the minds of children.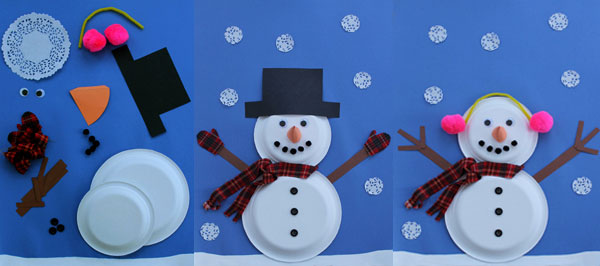 To print the free patterns and watch the video, click here
That is all you need to get things started. A blip on their interest radar. Once they have sat down with the materials, all attention will be on you to get started. Now, when kids are involved, you know that planning and explaining isn't necessarily going to keep their attention. So, do not worry about going through the instructions before letting them participate. You can use the instructions and video in real time to assist them in finishing the project.
Our paper plate snowman is great for class projects as well. Start by making a giant snowman to put on the door to the room and let that be inspiration for all the little minds. Incorporate it into the day's plans by talking about the cone nose being 3D while the rest is of another dimension. It will be a great way for kids to remember and recall what the differences are.
Both videos can be accessed on our website. The printable instructions make it very easy for any teacher or provider to plan for however many students they have. The materials are relatively easy to find and cheap to come by, even with a large group of students. They can be bought in bulk and dispersed accordingly. Have fun with this artistic lesson!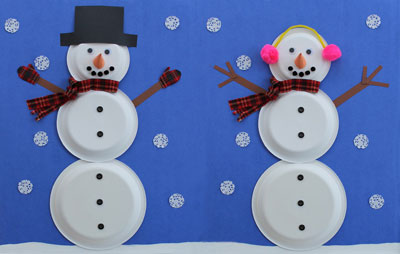 To watch the video and print the free patterns, click here